Update:  Pre-orders are open:  https://amzn.to/3nBVVSu
A brand new Neo Geo MVS tabletop arcade console was just announced.  There's a $500 model that comes with a stand which makes it close in size to a full-sized cabinet, while $450 gives you just the "tabletop" unit itself.  If you buy the stand afterwards, it'll run you $100.
It looks like they're using a 1280×1024, 17: LCD panel, which after 4x scaling the Neo Geo's original image, will end up at 1280×896.  There's no mention of what emulation they're using, or how they'll handle the scaling, but they did mention there will be a scanline option.
Overall, anything past this is just speculation:  Will it be an accurate gaming experience that Neo Geo enthusiasts will enjoy, or just an overpriced toy that takes up space in someone's game room?  The fact that they've desgined the control panel around a 6-button Street-Fighter-Like layout, instead of the typical 4-button Neo Geo that every single MVS and AES user is used to, my hopes are extremely low.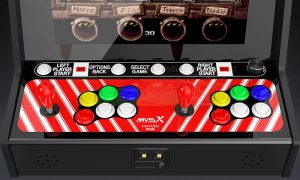 If nothing else, maybe it'll be a cool tabletop to jam in a Raspberry Pi…or even an original Neo Geo motherboard, if you'd like.
They're claiming a release date of this October, with no pre-orders available yet.  The full game list is below and a bit more info is available on their main page:  http://www.snkmvsx.com/index.html