(Update #2: August 14, 2023) In the face of legal threats from Cybdyn, danhas42 has taken the perfectly reasonable course of action to not release LiteMenu or its source code. The PS-IOwned project is—allegedly—still working on their own implementation though, but only time will tell how they react to similar pressures. 
(Update #1: August 13, 2023) In a video posted this morning, danhas42 has said that they originally gave Cybdyn until the 14th to release their update, and that the previous date of August 13th was a mistake.
Developer danhas42 has pledged to release an alternative menu for PSIO this weekend, bringing significant speed improvements and GameID support for MemoryCard Pro and PS1Digital users.
The PSIO was the first ODE released for the original Playstation, allowing users to run software from an FPGA board plugged in to the parallel I/O port. Although other Playstation ODEs have been released since then, one thing that makes the PSIO notable is that it is still the only ODE that allows the host console to retain the full functionality of its optical drive, giving users the ability to run backups or retail discs. However, after some positive early press the PSIO has fallen out of favour with retro gaming enthusiasts.
The first reason for this is simply a lack of ongoing support from its developer, Cybdyn Systems. While Cybdyn has recently updated their website and claims to be continuing firmware development, the PSIO hasn't received a firmware update since December, 2020. Although the PSIO is still a functional ODE and is capable of running a substantial portion of the Playstation library, there are numerous stability, compatibility, and functionality issues that have not been addressed. For example, the PSIO lacks any integration with either the MemoryCard Pro or the PS1Digital GameID metadata system.
The second reason is that Cybdyn has done a poor job of engaging the retro gaming community. The group famously left Twitter after being called out for intentionally and maliciously doxxing people on their website, and recently came under fire for stranding their user base when they closed both their official forums and Discord servers. When you compound that with a draconian and hostile firmware DRM scheme and almost three years of missed firmware release dates, the PSIO user base has—understandably—been quite upset with Cybdyn.
Not content to let the PSIO languish from neglect though, enthusiast developers have been working to break the PSIO's DRM and offer users an alternative to the official firmware and menu system. At least two projects currently exist on GitHub:
PS-IOwned: A project that aims to reverse engineer both the software running on the PSIO cart and also the menu system loaded on to the Playstation during boot.
Lite Menu: A streamlined menu replacement for the PSIO with faster loading and modern features, like GameID support for MemoryCard Pro and PS1Digital users.
Cybdyn has allegedly reached out to the Lite Menu developer—danhas42—and threatened legal action, citing intellectual property concerns. Whether or not Cybdyn has a case here is frankly outside the scope of what I believe RetroRGB is qualified to cover, but danhas42 appears to be undeterred: "I told Matt that if he releases the promised update by August 13th (2023), I will not release my software and will send him the source," the GitHub reads. "Otherwise on 13th Litemenu will be released," [sic]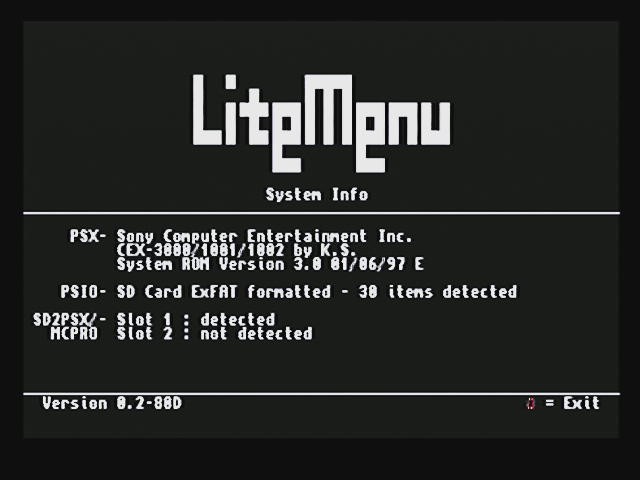 It should be mentioned that Cybdyn has repeatedly asserted that the main thing holding them up is the development of a revised DRM scheme that aims to combat the sale of clone PSIO hardware. While it's possible to clap back by pointing out that Cybdyn is allegedly using unlicensed libraries in the creation of its own software, I think it is worth acknowledging that the retro gaming scene does have a problem with bootlegging and I sympathize with their situation. Still, other developers in the retro gaming scene appeared to have found solutions to these problems without resorting to user-hostile policies, and I hope that Cybdyn will find a route forward that isn't quite so combative. I'm reminded of an oft cited Gabe Newell quote:
"One thing that we have learned is that piracy is not a pricing issue. It's a service issue. The easiest way to stop piracy is not by putting antipiracy technology to work. It's by giving those people a service that's better than what they're receiving from the pirates."
Lastly, it is important to remember that what little support Cybdyn provides will likely be unavailable if third party software bricks your PSIO cart. Although the new features and performance improvements are compelling, this is definitely something that you'll be installing at your own risk.