Sega Genesis fans rejoice! A mod was just released that will allow you to jump into your Genesis gaming glory a few seconds faster! It can be purchased here.
Many of us will know the screen above very well! This screen is displayed for a few seconds at boot of most versions of the Sega Genesis. This logo is triggered by the Genesis' TradeMark Security System (TMSS), a licensing feature integrated into the Genesis motherboard to prevent the booting of unlicensed cartridges. Unless you have a very early model of the original Genesis, this screen is the first thing that the system loads. But no longer is this a requirement, thanks to Will's Console Modifications, a one-man repair, parts, and modding shop in the UK (you may have heard of the Playstation Wireless UnoRetro Adaptors).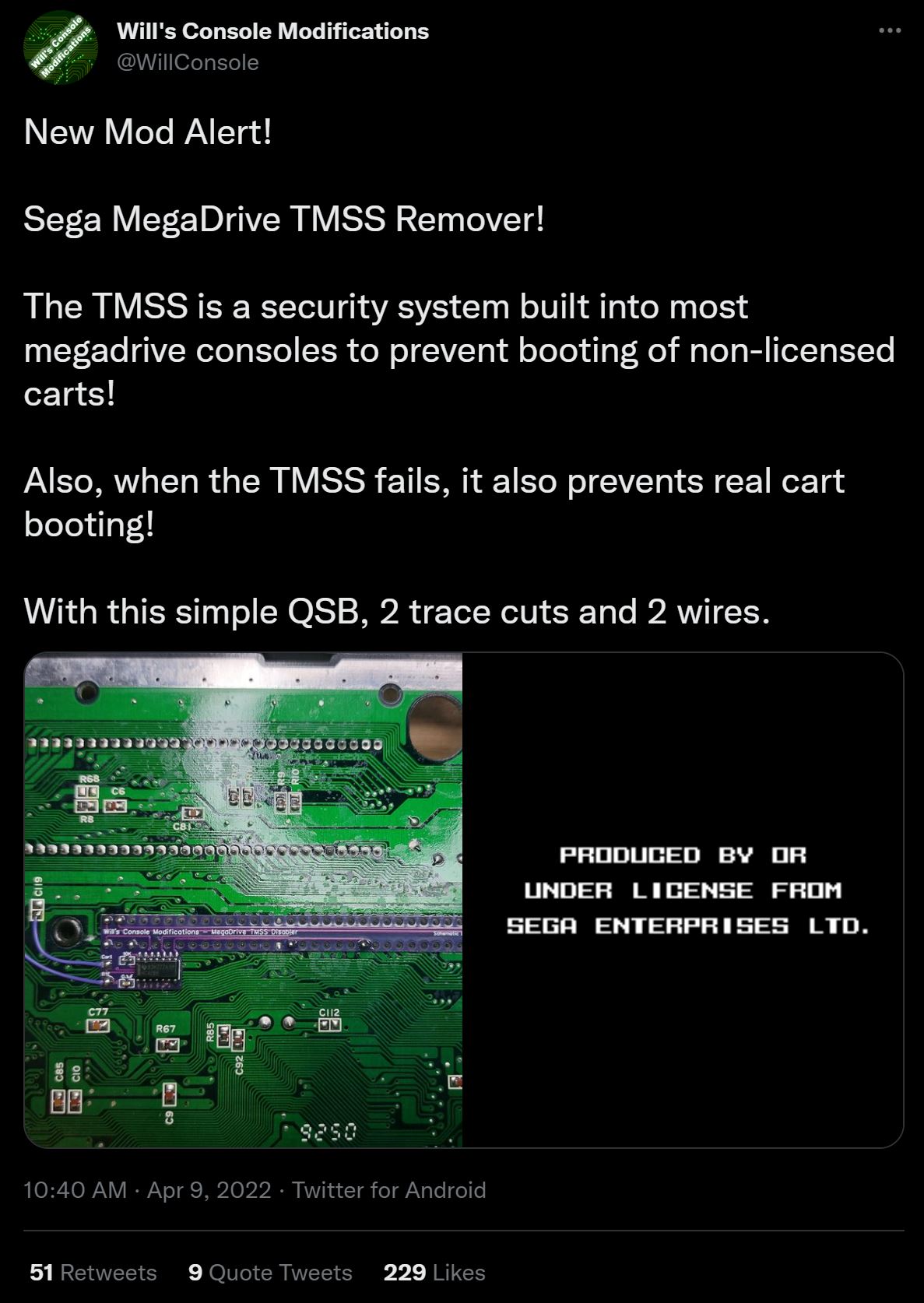 A couple months ago, Will announced this mod that removes this screen from the boot cycle, and it is now available for purchase.
In addition, this will remove the TMSS licensing check altogether, allowing systems rendered broken from a faulty TMSS to have new life, as well as to allow the booting of incompatible (both official and bootleg) Genesis titles. The price of this is a very affordable £15 (about $19 US at the time of writing). In addition, when I reached out to Will for comment, he confirmed this mod should even work on the Model 3 Genesis and the Sega nomad (although so far, this is untested)!
The mod will require soldering and some trace cuts, but thanks to the Quick Solder Board (QSB) it does seem to be a fairly straightforward install!
Follow Will on twitter (@WillConsole) or sign up for his newsletter for updates on this exciting new mod, as well as all happenings in his little shop.