We got our hands on this little pre-release prototype of Humble Bazooka's NEW 'SATURN BT' wireless Bluetooth adapter, based on the awesome open source BlueRetro project by Jacques Gagnon (aka DarthCloud). We've put it through it's paces to see how well it stacks up against the current options available.
TL:DR
The Saturn BT Adapter is a compact & solidly built Bluetooth receiver for Sega Saturn, based on BlueRetro. It allows folks to use a variety of existing Bluetooth controllers (even mouse & keyboard) with Sega Saturn, and it also supports ANALOG INPUT! It features great connectivity and performance, and it's scheduled for retail release in 'late June 23'.
Humble Bazooka's Bluetooth Adapter works with all sorts of gamepads, including PS3, PS4, PS5, Xbox One, Xbox Series S & X, Switch Pro Controller & Joy-Cons, 8BitDo (Bluetooth only) and other Bluetooth controllers. And because it's powered by the amazing BlueRetro platform, a portion of each sale is donated to Jacques (DarthCloud) to help further support development of the platform.

FEATURES
Use various Bluetooth devices with your Sega Saturn
Mouse and Keyboard support
Analog mode for games like NiGHTS into Dreams…
Can function as a multi-tap
Assign Turbo to any button with varying speeds
Very low latency, comparable to "2.4Ghz" devices (varies based on controller being used)
Remap any button
User updatable via web browser
Injection molded shell
BUILD QUALITY
You might already be familiar with the BT line of adapters from Humble Bazooka, all having a similar finish and consisting of a small PCB housed in a 3D printed fused filament enclosure. However, the SATURN BT officially marks the beginning of an upgrade for the product line to a new injection molded housing. The result is a rock-solid build that is so well fitted, that the PCB is snapped and held firmly in place with virtually no wiggle room, and the adapter fits very snug into the Saturn's controller port. The overall design and finish feels much more premium and it definitely makes the product stand out amongst its predecessors.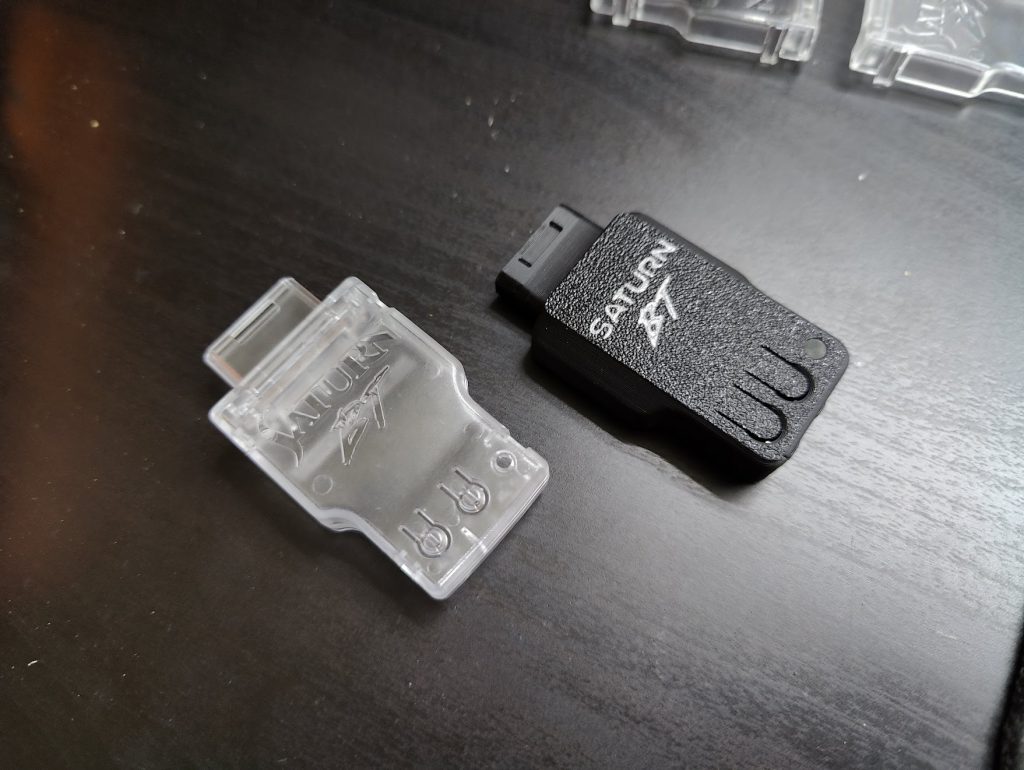 NOTE: While our prototype has a clear translucent finish, the production release will come in a darker translucent smoke finish.
CONNECTIVITY
Much of what makes this receiver so great out the door is that it's based on BlueRetro, which has been in development for a long time and continues to receive updates and improvements in performance and stability. When plugging the adapter into a powered Saturn (or when powering on a Saturn with the adapter inserted) it immediately enters discovery mode and 'advertises' itself to devices as a gamepad receiver. This means that if you're using a relatively modern Bluetooth device, simply waking it with the home button typically results in a quick and easy pairing.
I tested this with a few different controllers, and pairing was quick and painless for all of them. In fact, it often wasn't necessary to use the pairing button on the adapter, as it was already way ahead of me in detecting and pairing with my controller. That means the end user experience feels much like turning on a Nintendo Switch and having it immediately detect your controller. This is awesome, and it's definitely what folks need in a Bluetooth receiver; less time spent pairing a controller and more time spent playing games.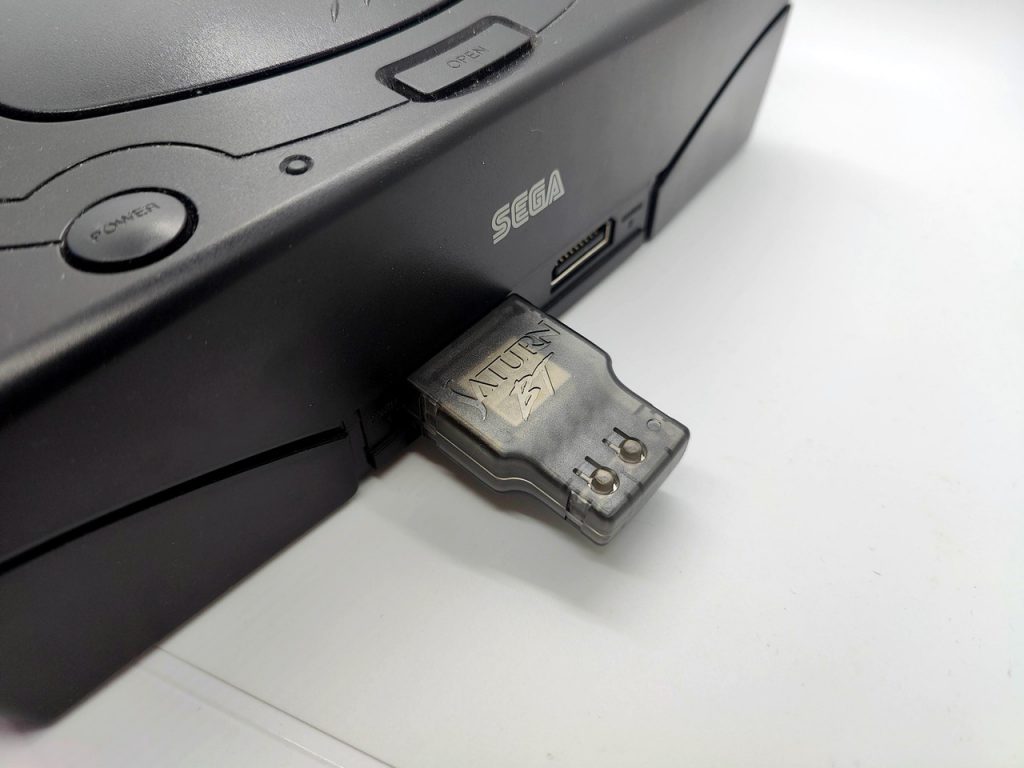 Of course, mileage will vary depending on how old or new your controller is and what version of Bluetooth it uses. In certain cases, it may still be necessary to press the pairing buttons on both the receiver and controller, however, all controllers that I tested were able to pair with the Saturn BT quick and easy.
PERFORMANCE
I admit it. I did NOT expect this receiver to perform as well as it does… I've used a lot of wireless controllers & receivers (both 2.4Ghz & Bluetooth), and the Bluetooth receivers typically fall short of the 2.4Ghz ones in terms of overall latency. However, this Saturn BT adapter basically feels like using a 2.4Ghz receiver, when paired with a reasonably modern Bluetooth controller. Of course, I can still feel a slight degree of latency (same as I would with a 2.4Ghz receiver) however, it doesn't hamper gameplay even on more demanding games like horizontal and vertical shooters.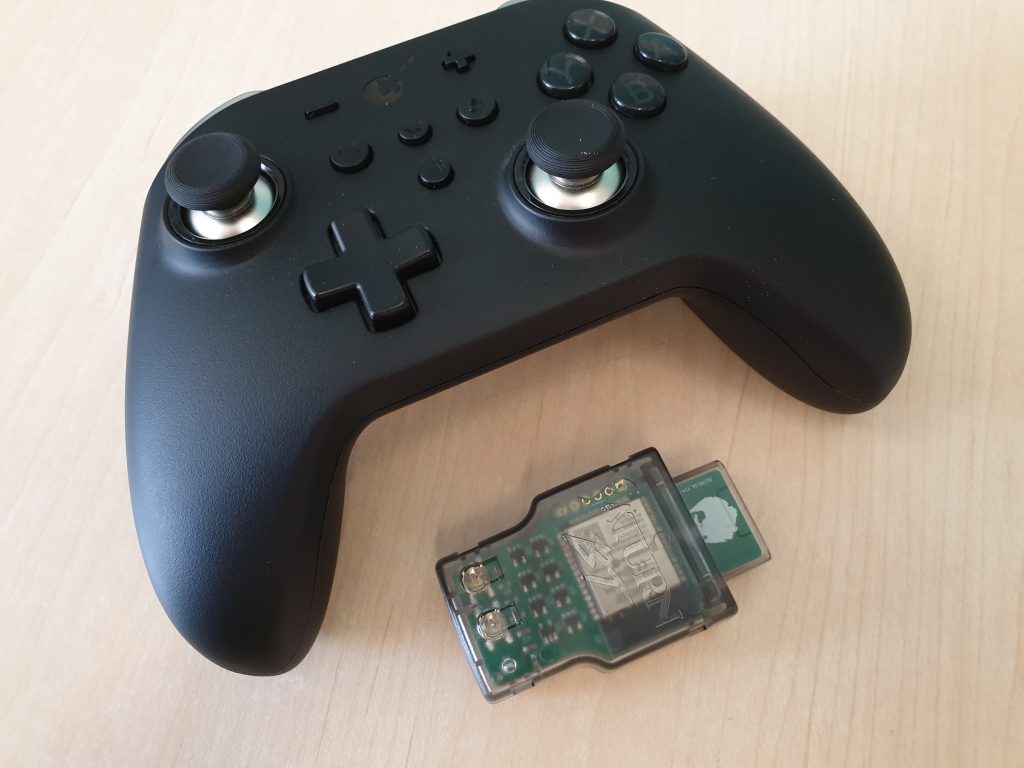 In fact, I was really impressed by the analog performance of this receiver when paired with my GuliKit Wireless Zen Pro controller (aka King Kong 2), which features analog thumb sticks with magnetic hall effect sensors, which is the same technology used in SEGA's original 3D analog control pad! Not only do hall sensors eliminate stick drift, they also provide for very accurate and nuanced input. Here is a video demonstration of NiGHTS into Dreams… being played with the Saturn BT adapter and the Zen Pro controller.
Analog input latency feels VERY low, and while it's still NOT a 1:1 experience vs. the original 3D Analog Controller, it's quite playable and enjoyable! I would say it feels about 85-90% there in terms of how tight and accurate the analog input is. We must keep in mind that the 3D control pad had it's own bespoke CPU inside that used a special algorithm to interpret input as a complicated curve. This is what makes it so unique and so matchless in terms of pinpoint accuracy. Most folks who just want to have fun with games like NiGHTS will have no problem using the Saturn BT and their analog controller of choice, however, for folks who plan to play competitively, it's still no match for a wired 3D analog control pad. It's just not…
While playing NiGHTS I have encountered the odd intermittent drop-out, where I lose control of NiGHTS for half-second to a second, and NiGHTS goes flying off in the last direction entered, and then I regain control. This seems to happen with a few different controllers, all having about 2-3 feet line-of-sight between them and the Saturn BT. (Both my GuilKit pad and the Saturn BT are on the latest firmware available).

UPDATE:
The current Saturn BT firmware is a beta build and there are a few known bugs in the analog mode that are being addressed collectively by Humble Bazooka, DarthCloud & GamingNJncos. So this issue will likely not be present upon release. We're simply disclosing it here for the sake of transparency.
Also important to note is the fact that Humble Bazooka plans to bring to market a wireless Bluetooth transmitter for the SEGA Saturn's existing 3D Control Pad based on previous work by GamingNJncos. This is still very much a work in progress, and an actual release date has not even been hinted at, however, here is some footage of a prototype board in action, care of Derek Pascarella (ateam).
CONFIGURATION
While there is currently no button combination in place for switching between digital and analog input, it can be done easily through the BlueRetro web portal. Just go to https://blueretro.io/ on your PC or mobile device (which must have a Bluetooth radio in it) and click on the button to connect with the receiver.
Once connected, you can change the mode from GamePad to GamePad Alt or even Keyboard or Mouse.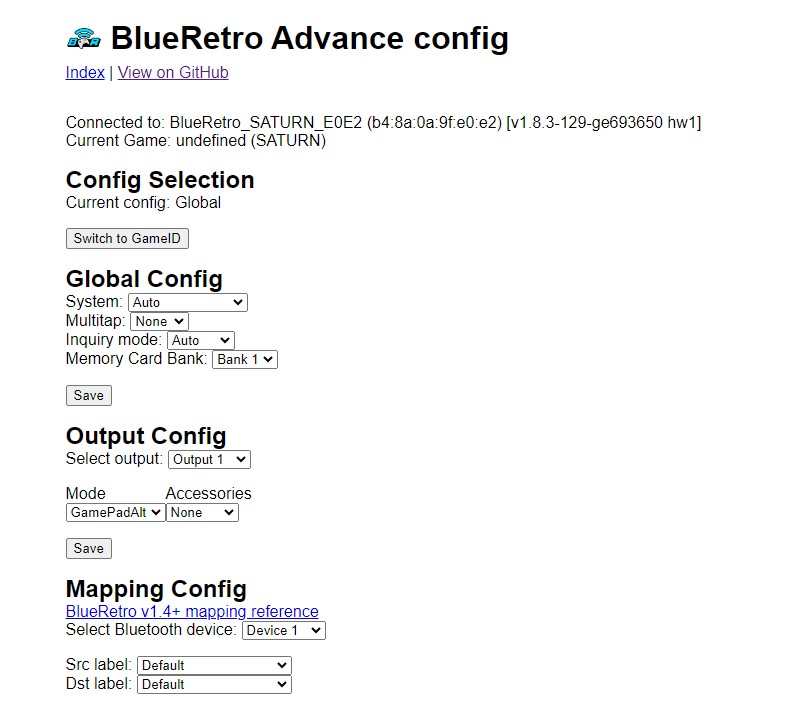 Here is a video example of the receiver being used in mouse mode (also care of Derek Pascarella).
AVAILABILITY
According to Humble Bazooka, the Saturn BT will be available in 'late June 2023'. Folks in North America will be able to grab it from Stone Age Gamer for US$39.99, and folks in Europe can get it from 8bitmods for £39.98 (€39.98).
Here's an additional demonstration video of the Saturn BT in action with CROC:
---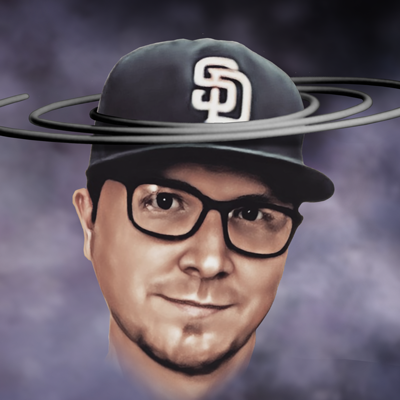 A massive Saturn fan since Christmas '96, Dave is enthusiastic about growing the community and spreading Saturn love and knowledge to fans old and new. Co-founding the SEGA SATURN, SHIRO! podcast back in 2017 and creating the SHIRO! SHOW in 2020, he seeks to create interesting and engaging Saturn-related content for the community. Dave's interests circle around game preservation, and he is a huge fan of game magazines and developer interviews.