Download Patch:
https://github.com/DerekPascarella/NakoruruTheGiftSheGaveMe-EnglishPatchDreamcast
Nearly two years in the making, the English translation patch for "Nakoruru: The Gift She Gave Me" on the SEGA Dreamcast has finally been released! This visual novel adventure is set in the Samurai Shodown universe and treats players to a heartfelt tale, developing Nakoruru's backstory in a way never seen elsewhere.
I began this project in July of 2021 and functioned as the lead developer, lead graphic artist, and even one of the script editors (and by virtue, a playtester too). However, without my stellar teammates, such an ambitious project would have never been possible: @LewisJFC (lead editor), @samudesu (translator), and @marshalwong (translator). A very special thanks also goes out to @witchpiggy (translation and lore assistance), @sega_moondrop (creator of the localized logo), and @Danbo_4 (VMU graphic artist).
"So, a Samurai Shodown… visual novel?" you may be asking. The answer is "yes", but there's much more to it…
Text taken from the README, written by Lewis Cox (project's Lead Editor):
Being a fan-favorite character of SNK's beloved Samurai Shodown fighting franchise, it's only natural that Nakoruru would get her own spin-off game. SNK granted developer Inter-Let's the privilege of crafting a story that explored her character in finer detail, with the result being "Nakoruru: Anohito Kara no Okurimono (ナコルル 〜あのひとからのおくりもの〜)", a visual novel game released for Windows in 2001, and Dreamcast in 2002, exclusively in Japan. To take a source material known for its intense arcade fighting thrills and adapt it into a quiet, heartfelt text-based adventure makes for quite the interesting gaming experience.
The game's story is told from the perspective of seven-year-old Mikato, an orphan who is taken in by the people of the snowy village of Kamui Kotan. She is selected by the village's chief, Outada, to serve as assistant to the shrine maiden Nakoruru, somebody the people of Kamui Kotan admire for her strength, dependability, and outward positivity. Mikato soon realizes, however, that deep down, Nakoruru is harboring an intense sorrow…
The gameplay of "Nakoruru" is simple, and familiar to those who have played a visual novel before. Advance the story with a button press, and occasionally make choices, some of which greatly affect the game's narrative. Also included throughout the story are several basic but charming mini-games. These include quizzes, fishing, dodging enemy attacks, and more.
This translation patch goes all out, covering every single aspect of the game, and even delivers brand-new content created just for this release. Below is a high-level list of changes implemented for this patch.
All 12,000+ lines of Japanese dialogue text have been translated.
All menus, textures/images, bonus content, and mini-games have been translated, re-rendered, and rebuilt.

Previously, the only English asset in this game was the "Press Start Button" text on the title screen.

All VMU icons and applications have been translated (read more in this Dreamcast-Talk.com forum post).
All VMU save and application metadata appear in English on the Dreamcast's BIOS menu save manager.
A new font sheet was created, along with new SH4 assembly code to support narrower glyph tiles and all related modifications (read more in this Dreamcast-Talk.com forum post).
The "Learn the Lyrics" mini-game previously functioned as a basic Kana lesson for players, and has been modified to teach the player the Ainu phonetics for Nakoruru's "secret song".
The text fade-in speed has been increased to account for difference in how English is read (compared to Japanese). Additionally, the default speed setting has been changed from "regular" to "fast" (adjustable in settings menu).
Subtitles have been added for spoken dialogue during the "Teach a Girl to Fish" mini-game.
In dialogue text, the speaker's name is visually differentiated by being displayed in orange, rather than just in brackets with the standard white color.
Quiz mini-games completely overhauled and localized.

Quiz mini-game questions completely rewritten as to give players the ability to answer them correctly, while also learning about Japanese and Ainu culture, food, and history (see Mini-Games section).
Quiz mini-game timer removed to give players time to research answers for each question.

Voice-acted dialogue audio persists across multiple dialogue boxes as to not be prematurely halted when English text consumes more than a single dialogue box (read more in this Dreamcast-Talk.com forum post).
Rewrote and optimized code in the functions responsible for pushing icon data to VMU LCD, thus eliminating an issue causing intermittent ignored input (i.e., button presses) on the DreamConn+ controller (read more in this Twitter thread and this Dreamcast-Talk.com forum post).
A brand-new Bonus Disc was created to provide players with a 100% fully-unlocked save, two playable songs from the game, and the first and only episode of the official "Nakoruru: The Gift She Gave Me" OVA. All of this content is enjoyable directly from the Bonus Disc itself on real Dreamcast hardware (read more in this Dreamcast-Talk.com forum post).
The game's original soundtrack has been ripped and provided for download in WAV, MP3, FLAC, and OGG formats (see Original Soundtrack section).
From the list above, you'll notice a call out to the supplemental Bonus Disc shipped with the patch (pictured below).
Offered in both GDI and CDI formats, the Bonus disc treats players with the following extras:
A 100% fully-unlocked save file, granting players access to all of the game's built-in extra content (accessible from the "EXTRAS" option in the game's main menu).
A well-produced, 30-minute OVA (original video animation) produced in 2002 by ARMS featuring the same characters and setting as the game. Note that the screensaver timer has been removed with an assembly hack so that the entirety of this video can be watched uninterrupted.
A beautiful rendition of "Miko no Densho Uta" ("Traditional Shrine Maiden's Song") performed by Nakoruru's voice actress, Harumi Ikoma.
The gorgeous song sung by Manari's voice actress, Ayako Kawasumi, when she finally works up the courage to sing in front of others in the game.
More can be read about the Bonus Disc in this Dreamcast-Talk.com forum post. To learn more about the quality-of-life changes made to the Deam Passport browser for purposes of this Bonus Disc, visit this Dreamcast-Talk.com forum post.
But wait, there's more!  Any VMU fans out there?  As part of this game's unlockable extra content, players have the ability to download one of four clock applications to their VMU. Four of the main characters are each featured separately in these applications (Nakoruru, Manari, Rimururu, and Rera), and are accessible from the main menu by navigating to "EXTRAS" and then "VMU APPS".
Once downloaded to a VMU, players can navigate to the game icon (♠), where they'll be presented with an animated icon of the selected character. The current time will also be displayed.
Pressing the A button will display an option to hold both A and B buttons to reveal a quote from the character. Pressing B again returns back to the current time.
As the hacker/programmer on this project, I'd like to add that this was one of the most fun and interesting challenges I overcame. The screenshots below show a bit of the reverse-engineering process, where the text-encoding scheme used by these VMU apps had to be identified in order to localize them into English. More can be read about the process of reverse-engineering these VMU clock applications in this Dreamcast-Talk.com forum post.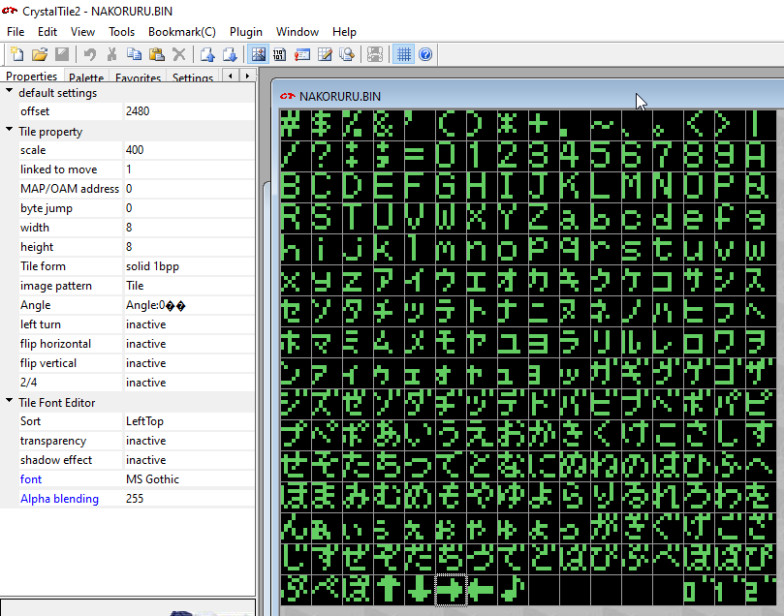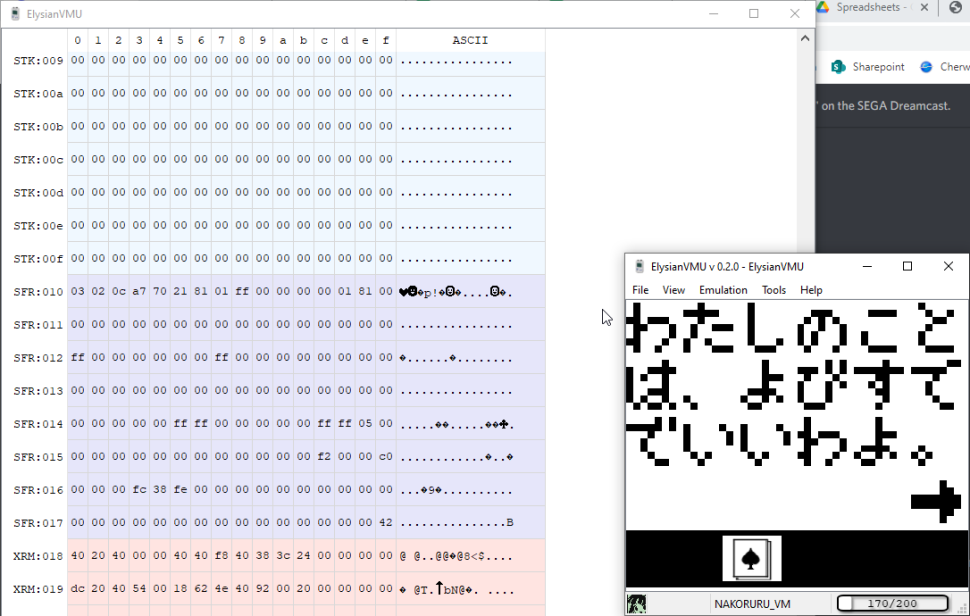 In addition to clock applications that players can have fun with on their VMUs, the 35 MB single-density area of this game's GD-ROM contains other time-telling bonus content. The use of this 35 MB portion of the disc to package extra material is quite common with Dreamcast titles.
Accessible by players who insert their original game disc into their computer's CD-ROM drive, this content came in the form of six clock applications. These applications are 32-bit Windows binaries which have been tested all the way up to Windows 10.
While these small bonus programs originally displayed their menu in Japanese, they have been fully translated into English for this release. To access the menu, simply right-click anywhere on the clock face.
Each clock application executable is available in the disc_content folder.
For those who find themselves humming along and tapping their feet to the tunes heard throughout "Nakoruru: The Gift She Gave Me", the OST has also been provided as part of this English translation patch release. These beautiful musical arrangements were composed by two longtime SNK legends.
Yasuo Yamate (山手 安生), better known to SNK fans as Tate Norio, is a Japanese music composer and audio engineer who was hired by SNK in 1986. Before working for SNK, he composed soundtracks for many games, such as "Sonic the Hedgehog", the "Ninja Gaiden" series, the "Final Fight" series, the "Contra" series, and more. He also helped in the composition of music from "Street Fighter II", "Super Hang On", and "Shadow Dancer".
Yasumasa Yamada (山田 泰正), also known as Yamapy-1, is a music composer and sound editor who was hired by SNK in 1989 as a member of the sound team.
Download the original in-game soundtrack, available in WAV, MP3, FLAC, and OGG formats.
In closing, this translation patch project was extremely rewarding for me and and the others on my team. After just a few weeks shy of two long years, we are beyond thrilled that English speakers can now enjoy "Nakoruru: The Gift She Gave Me" for the very first time, and on the SEGA Dreamcast!
If you're feeling generous and want to contribute to my ongoing Dreamcast endeavors, head on over to https://DreamcastForever.com and click "Contact" for the PayPal donation link.