There has always been a need for portable monitors in the video and film industry.  In the 1990s, Sony realized this need and in response produced a new line of Trinitron Field Monitors.  These CRTs supported a wide range of analog video signals and were fully portable with rechargeable batteries and other alternative power options. The smallest of the Sony Field Monitors is the PVM 5041Q.  This light and portable monitor is easy to move weighing just over twelve pounds.  It has a 5″ display area with inputs for Composite video and RGBS or Component video.  It produces a sharp and vibrant image using Sony's patented Trinitron Electron Gun technology.  It is great option for displaying 240p and 480i video signals.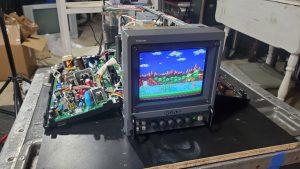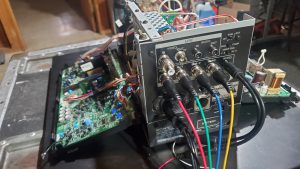 This PVM line did have some flaws.  It is quite compacted with hardware.  Periods of long use causes heat to build up inside the monitor shell.  Over time, this will wear out components within the PVM.  A capacitor kit is recommended for the D Board.  Check the solder integrity and reflow solder as needed.  The D Board controls the geometry functions on the monitor.  Adjustments can be made using the potentiometers on the D board.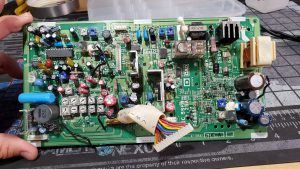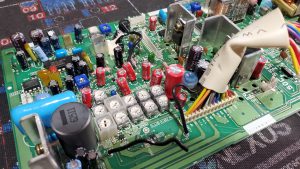 The B Board controls color processing.  This board should be inspected.  Bug Fix: Look closely at the trim potentiometers labeled CV101 and CV102.  If these are orange in color, they need to be changed per a Sony bulletin.  These orange pots are prone to failure.  Once they fail, the picture display will lose color on the composite video input and display only a black and white image.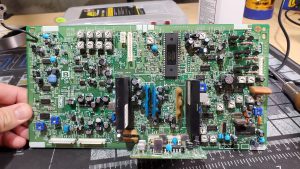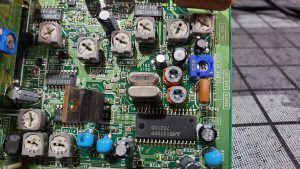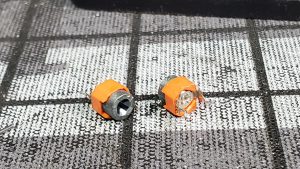 Replace these potentiometers with modern Ceramic 100V Trimmer Capacitor with a range between 3pF to 10pF.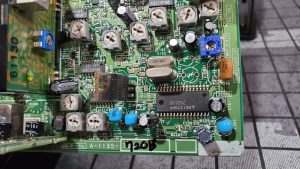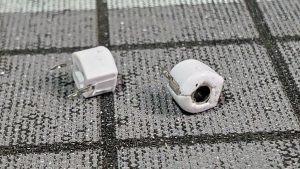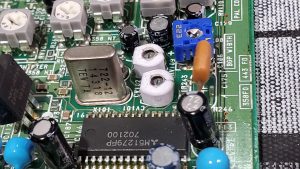 Add a 5pF 50V Ceramic Capacitor to the legs of CV101 and CV102.  Solder these into place as pictured below.  Afterwards, clean the board and add some insulating caulk to the capacitors.  This will repair the monitor, and you can once again display color on the composite and s-video inputs.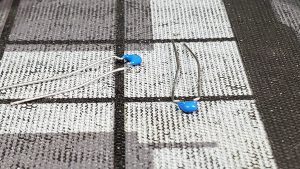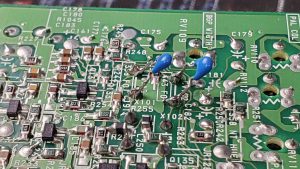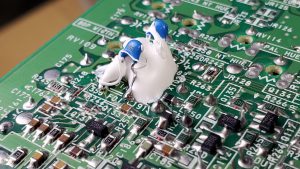 The Power Supply should be serviced next.  Remove it from the monitor and remove the shielding.  Replace the electrolytic capacitors and reflow the solder on the board.  After cleaning the board, replace it within the PVM and test your work.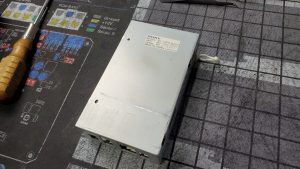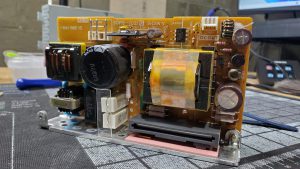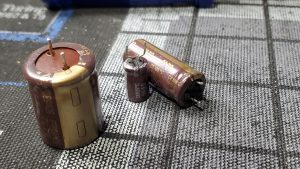 Next you can clean, adjust and test the monitor.  These hardware repairs will work with all the portable field CRT monitors in the Sony PVM 40 family.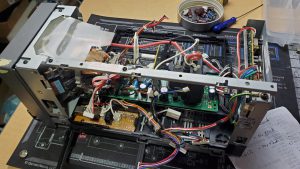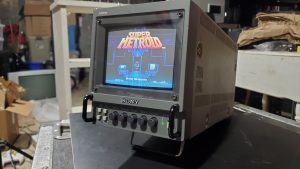 The Sony PVM 5041Q has many other great features and unique qualities.  To learn more about the CRT and for more details on the restoration or repair process, check out the video on the PVM 5041Q.  For individualized capacitor kit lists and repair support, please check out our Patreon.