Mike Chi has just released a new firmware update for the RetroTINK 5x.  v1.24 updated the low-pass filter for anyone who had jailbar/interference issues after the last firmware update.  There's also support for DTV 858 sampling in 1440p mode!  The video above walks you through exactly what you need to update the RT5x's firmware.  Details about all of this firmware's additions are below the link:
Purchase all RetroTINK Products via multiple vendors worldwide here:  https://www.retrorgb.com/retrotink.html
Download RT5x firmware v1.24 here:  https://www.retrotink.com/post/retrotink-5x-pro-firmware-updates
More info on the RT5x:  https://www.retrorgb.com/the-retrotink-5x-has-arrived.html
Previous v1.2 firmware update:  https://www.retrorgb.com/retrotink-5x-v12-firmware-update-released.html
I think the main feature most people will benefit from is the updated low-pass filter (LPF), which now allows four total modes, as opposed to just On and Off.  This is good for consoles like the Saturn that might need more filtering than others, depending on what cable (or Saturn model revision) you're using.  Here's a demo of it in action: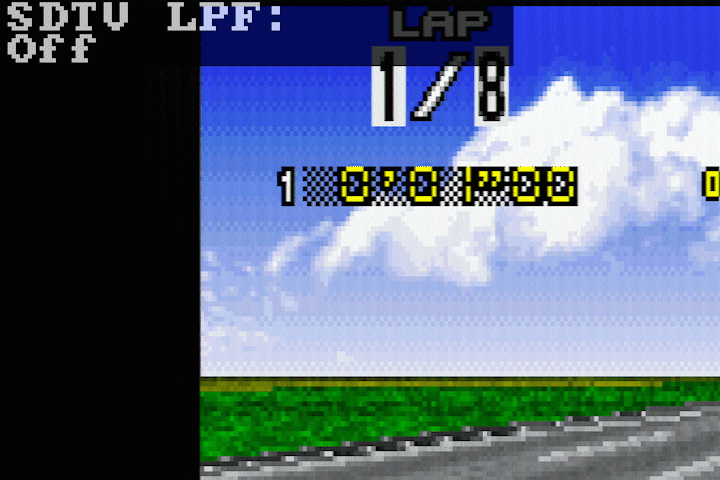 Also, if you have a TV or monitor that supports 1440p, you can now take advantage of the RT5x's "DTV 858" optimal sampling modes for 480p sources;  The previous firmware update added this feature for 480p, 1080p (fill) and 1080p (under) modes, but not 1440p.  Click on the picture below for a full-sized comparison and check out the previous firmware update for more info:


There's also updated scanline modes, with more darkness options added, as well as an option for 480p-style scanlines when using 480i sources.  In the previous firmware (and on the RT2x Pro), scanlines added to a 480i source would emulate the true look of 480i on a CRT.  I personally love this mode, but I completely understand the other option:  If you're deinterlacing 480i anyway, why not make the scanlines look as if it were a native 480p signal to begin with?  As usual, scanlines are really hard to capture and even if I got it right, it would look different unless you were viewing the example in the same resolution it was recorded…so, I'll leave this comparison up to you.  Definitely give it a try if you're a fan of artificial scanlines!
Here's the full list of changes.  Also, more information on the RetroTINK 5x can be found below in my "deep dive" review, as well as in the recent interview I did with RT5x creator Mike Chi:
SDTV LPF has now four settings: Off/Light/Medium/Strong.
DTV 858 Optimal Sampling for 480p sources is now enabled for 1440p output modes. Please set your display to "16:9" for the correct final aspect ratio.
Scanline generator now has 25%, 50%, 80% and 100% (integer) modes.
480p style scanlines can be applied to de-interlaced 480i content.
New firmware drop, just for you gents with noisy consoles 😉

As an aside: I am now flooded with feature requests (mostly polite, a few rather rude and demanding…). Keep in mind, everything has to get filtered and prioritized.

1/2 pic.twitter.com/whirEdp7Uo

— Mike Chi (@retrotink2) June 6, 2021