SNK Japan recently tweeted more pictures of its upcoming Neo-Geo Arcade stick.
人気格闘ゲーム20作品を収録したアーケードスティック「NEOGEO Arcade Stick Pro」 が登場!#SNK #NEOGEOhttps://t.co/fwPW85kE5D pic.twitter.com/NZgLdsgklG

— SNK JAPAN @SAMURAI SPIRITS好評発売中! (@SNKPofficial_jp) September 10, 2019
Per SNK's press release, the stick will have two modes. One is a stand alone arcade stick while the other mode is a stand-alone console with 20 built-in games.  It will also include HDMI out for connecting to an HDTV or monitor, two USB C ports, and a 3.5mm headphone jack.
Dimensions are approximately W 430mm×D 215mm×H 125mm.
The stick will also be compatible with PC's (no word on OSX/Linux/Android) and SNK's own Neo-Geo Mini. Players will have the option to directly connect two controllers to each other for multiplayer action.
Unlike the Neo-Geo sticks of the past, the Pro controller will have more than four action buttons.  It will have eight to be exact. This is not including the option, start, select, and turbo buttons.  There are mode and platform switch buttons as well for the other functions.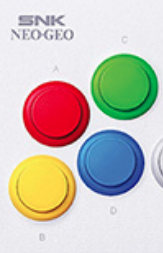 The four button layout is based on the Neo-Geo CD pattern instead of the tried and true slanted horizontal style of an original Neo-Geo stick.  Hopefully, the mode switch will also allow for players to choose different layouts to suit their style.
There is no word on pricing, a release date, or what type of emulation will be used at this time.
Like my work? Subscribe to my Channel: Ray Commend