Pre-orders are open from now until May 22nd, for an officially licensed re-release of Battletoads Double Dragon for the NES.  The price is $60 + shipping, which is cheaper than the originals seem to be going for these days.  The ROM itself is unaltered from the original, with only licensing being updated;  All gameplay is exactly the same and it runs at the proper speed on both PAL and NTSC consoles (totally region-free).  Retro-bit's recent Genesis cartridge releases were all very well made and if they're continuing the focus on quality with this one, it should be a worthy purchase for fans of the game.  More info below the link:
Pre-order here:  https://retrorgb.link/battletoaddd
There's lots that needs to be discussed here.  First, the good:  They've once again brought us an officially licensed re-release, that's both cheaper then the original goes for and comes in an awesome looking transparent green cartridge shell.  Their documentation claims it's running at the proper voltage and their past releases have been properly beveled…so while there's no guarantee it'll arrive at your door that way, their history proves it's worth taking the risk.
I was curious about one thing:  How does the box look when next to another NES box?  While I wouldn't categorize myself as a collector, when I buy a "new retro" game or re-release, one of the things I'm looking for is that it fits in with my other games.  Basically, if I put this next to my other complete-in-box NES games, will it look like the rest, or will it awkwardly stand out?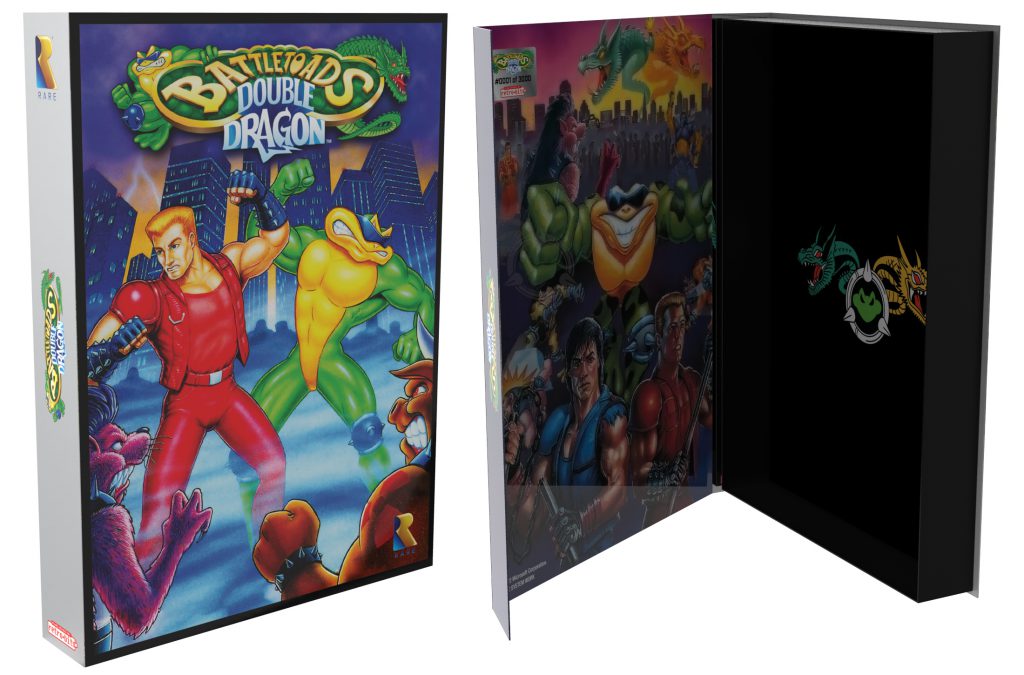 Retro-Bit provided a neat cartridge stand if you'd like to display the game that way, however none of the press release pictures showed an NES-style dust sleeve.  Please don't get me wrong:  I think the price is fair and both NES gamers and collectors will probably be interested in this.  I just appreciate when I buy a new-retro game and it slides in perfectly next to the originals.
And for the bad:  Well, honestly, if the cartridge is built to the same standards as their Genesis releases, I can't think of a "bad".  Maybe I'm missing something, but this just seems like a cool re-release.  Basically, this does not seem like a slimey cash grab…which is an important point to bring up:  Other companies have released low-quality versions of classic games that are more expensive than you can find on eBay, poorly made and potentially dangerous to use.  Retro-Bit's part few releases have been the opposite of that and the effort they've been putting into these should be recognized.