PixelFX has just announced another batch of N64 Digital HDMI mods will go on sale Sunday, September 12th at 1PM NYC time.  The last batch sold out almost instantly, so if you were hoping to get one, set your alarm, cause now's your chance!
Pre-orders will be available here (maybe create an account in advance to speed up the process?):  https://www.pixelfx.co/
Info on the firmware is below.
If you'd like more info on the N64 Digital, I strongly recommend checking out My Life In Gaming's video about it (linked below), as it's an in-depth look that covers all the info you'd need.  MLiG's video is so good, that I'll personally be holding off on making my own video, until a few more firmware updates are released;  Then mine will be an overview of all changes and additions that have been released since their video.
Speaking of which, PixelFX has also released a new beta firmware update on their testing channel.  To get this firmware, enter the N64 Digital's menu and select "system".  Then go to "firmware" and set the update channel to "testing".  Then save by pressing R and hit "update firmware".  You'll of course need to be connected to a wifi network to download anything.
After the firmware update is complete, hit R to reboot the N64d;  As a note, it will only reboot the N64d itself, not your console.  This is totally normal and a time-saving feature!
The first new feature I'd like to show are the presets, which have a number of pre-configured settings.  You'll still have to manually set your resolution and scaling, but these certainly simplify the process!  To access, re-enter the menu and select "Presets".  Hit the right arrow on your controller to cycle through and check out the different options.
My favorite is the new aperture grill scanline setting.  I felt they looked best (at least with SM64) when the N64d was set to 1200p resolution, with a 6x scale.  While screenshots are NOT an accurate representation of how they'll look on your TV, when viewed at 1:1 of the original resolution, they give you a sense of what to expect (click for full-sized):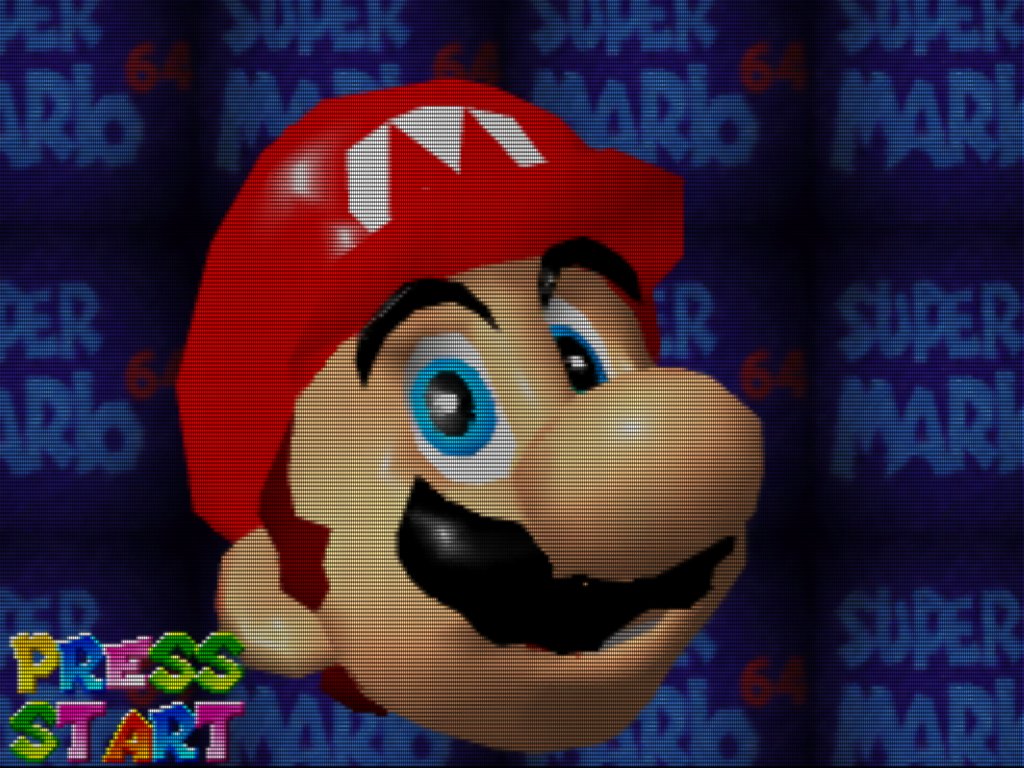 These scanlines even rival those of the amazing RetroTINK 5x!  Retro gamers should be thrilled about this:  We went from 10+ years of mediocre scanline generation on flat-panels, to two good options within about a month!!!  Check out how they look side-by-side, with both set to 1200p…and once again, please remember that these will look so much better on your TV when viewing from a normal distance, than when viewing a screenshot on your monitor or phone!: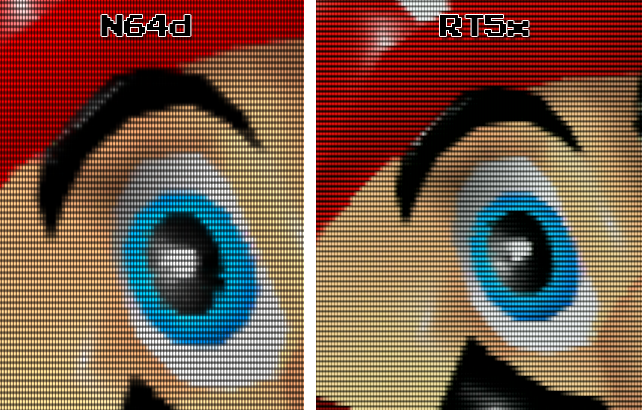 There's also an option that adds an option to get component video from the console's multi-out. To access it, enter the menu via the HDMI output, go to Advanced Video settings and toggle Analog Out from RGB to YPbPr: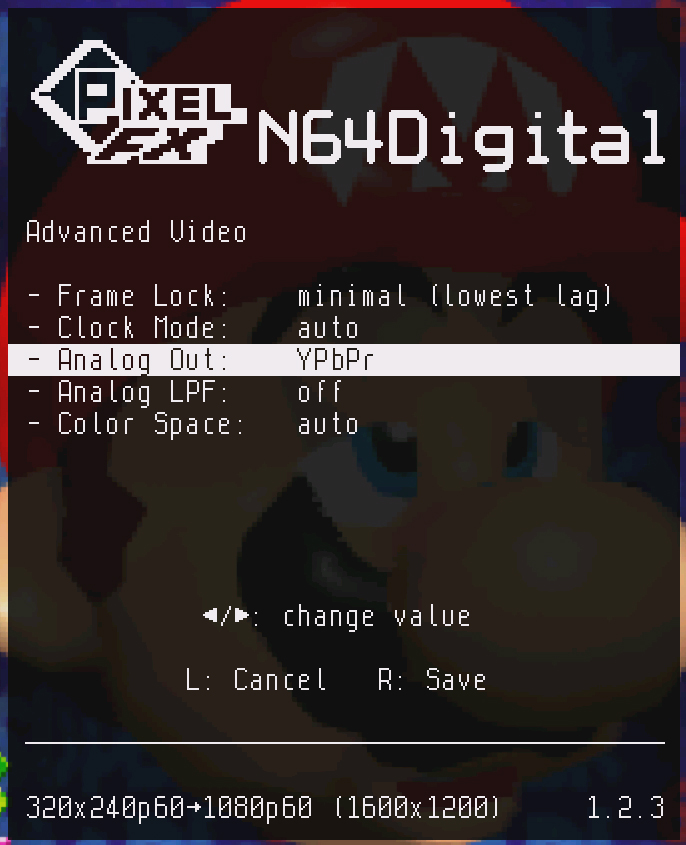 To physically access these signals, you have a few options:  First, you can make your own component video cable from scratch, or modify an RGB SCART cable by swapping the SCART head with RCA jacks.  A much easier option might be building (or buying) an adapter that allows you to connect Wii Component Cables to the multi-out.  Dan formerly sold an adapter that will work and while they're not currently offering them for sale, the adapters are open source and free for anyone to build:
Open source files:  http://dansprojects.com/downloads/
Wii Component Cables:  https://retrorgb.link/hdrwii
As a note, leaving it in "RGB" mode and using HD Retrovision SNES cables will also work and should be the exact same quality.
The N64d is shaping up to be by far the best HDMI solution for the N64.  The extra features that keep getting added are excellent and Pixel FX have done an amazing job making them available and communicating with customers, even during a global part shortage!
It's almost time! N64Digital orders will go live at https://t.co/8xpiJ7PxrC on September 12th at 1PM EST. pic.twitter.com/hGB1kHZl31

— PixelFX (@PixelFXco) September 3, 2021
New N64Digital firmware 1.2.1 (beta) is available on the testing update channel.

– New: Component/YPbPr analog output
– New: Presets
– New: Improved scanline generation
– Adaptive mode
– Aperture grill preset

— PixelFX (@PixelFXco) August 29, 2021