Humble Bazooka has just released a fully loaded version of their Atari Jaguar output adapter.  This one is essentially the AIOA Amp'd edition with their Network Interface Adapter built in as well – That means Atari Jaguar fans can have RGB, S-Video, Composite Video, Audio and network support, all in one adapter.  The price is $70 plus shipping.  Links to this and the previous version are here and there's lots more info after that:
JAGAIOA Plus:  https://retrorgb.link/jagaioaplus
Genesis 2-compatible cables:  https://www.retrorgb.com/genesisrgbcables.html
Cheaper AIOA with no network support (choose amp'd):  https://retrorgb.link/jagaioa
First – and respectfully – I need to note that most Jaguar owners will never use the network adapter.  I personally never will, but I wanted to buy this version anyway, just because I thought it was awesome!  If you don't want to link multiple Jag + Network adapters together to play Aircars, BattleSphere, Doom and potentially some other homebrew, you can get the cheaper AIOA amp'd edition.
As discussed in previous reviews, I do recommend the $45 amp'd edition over the alternative.  For an extra $10, you can safely have simultaneous output of all video formats and full compatibility with all properly built Genesis 2 cables…as always, using a $2 Aliexpress cable isn't supported and could potentially damage your equipment.
Luckily though, all of the "Plus" editions will be amp'd, making this the ultimate Jaguar adapter, with excellent video output quality.  They also all include a toggle switch for GameDrive ROM Cart compatibility:  All Jag net adapters (including the original) can't be used while the GameDrive is booting. So, easy fix!:  Leave the switch off at all times, then flip it on after your JagNet-compatible game has booted!  I love easy workarounds like this: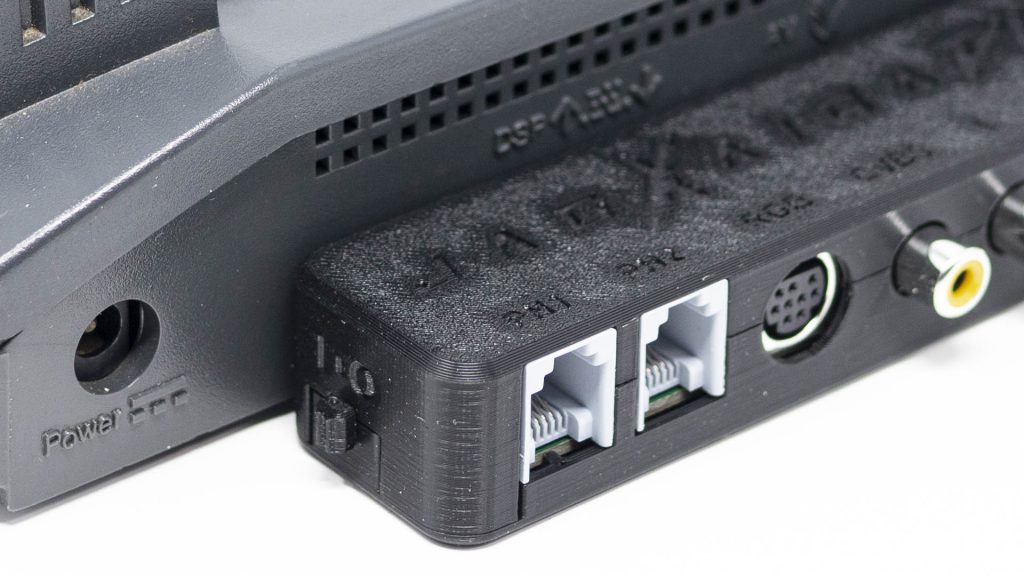 So, overall, the JAGAIOA Plus is the adapter for the Atari Jaguar fan who wants it all, in one nice looking, 3D-printed package.  Even though I'll never use the Net adapter, I'm really happy I bought this, just to know it's there if I need it!