After Enforcer's original controller lag test result post turned Twitter upside down, I asked if he wouldn't mind writing up a guide on how he performed those tests, so others might follow his method.  That page is now complete and part of the Oscilloscope section of the website!:  https://www.retrorgb.com/controllerlag.html
I used that method to test a few different controller adapters through a Neo Geo MVS.  I only performed the test about ten times each and this was my first time trying, so maybe others with a scope can help confirm?  Either way, I think people will be happy with the numbers!!!  Test results below:

Neo Geo Controller (basic switches) directly into MVS:
This test consistently showed far less than 1ms (10us), which is essentially the "zero lag" base measurement that's expected from a direct connection:

Brook Fighting Board through Undammed's USB Adapter:
This test averaged only 1ms of lag, with it often dropping far below.  This is a seriously impressive combo of controller adapters that all fighting game players can be confident using!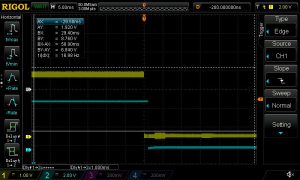 Mc Chthulu Board through Undammed's USB Adapter:
This test showed slightly higher lag averaging 1.6ms…but that's still far less than one would need to worry about for any competitive gaming!

So, overall, this is an excellent day for custom stick users!  Not only did Enforcer provide us with a reliable method to test controller lag, but I was able to verify some common setups as being extremely low latency!